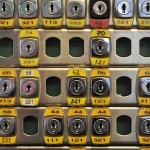 Fr o m 10 maj bokas maskin 7 & 8 skriftligt på en lista. Både för att underlätta för oss boende och för att bespara hyresvärden kostnaden för borttappade kolvar, nycklar och årlig rensning.
Lämna gärna in din bokningskolv + nyckel till Dombron, Storgatan 25 (Sivia torg). Så kan de
återanvändas i andra tvättstugor.
The laundry rooms' booking board for machines 7 & 8 will be replaced with a printed booking sheet on the 10th of May. Please return your booking lock & key to the landlord, Dombron at their office at Storgatan 25 (Sivia torg).
Tack på förhand!